築地市場(つきじしじょう、つきじいちば)とは、東京都中央区築地にある公設の卸売市場。東京都内に11か所ある東京都中央卸売市場のひとつだが、その規模は日本はおろか世界最大(広さでは大田市場のほうが広いが、取引金額は大田市場より大きい)であり、代表的な卸売市場である。この項では外郭に存在する築地場外市場商店街(通称:場外、場外市場、築地場外、築地場外市場)についても記述する。なお、ニュース番組等で、しばしば築地市場の場所を指して「つきじしじょう」と呼ぶことがあるが、場所を指す場合は「しじょう」ではなく「いちば」である。
Ok. I am just kidding, let's go back to English and let's forget about Wikipedia already.
Once upon a time, or actually every day since the Edo period before the dawn, Tōkyō captures the attention of the tourists for its famous Tsukjii fish market ( 東京都中央卸売市場) .
I dare to write about it even if I've never been there since a new aquaintance from work, told me about this wonderful experience.
It's something that once in my life I would like to try.
Beyond the smell of fish and the wake up alarm set at a very annoying time, I can only think about the bright side of it and I can even predict how sweet and mouth watering would be a sushi or sashimi eaten there, freshly fished and .. in the morning, for breakfast.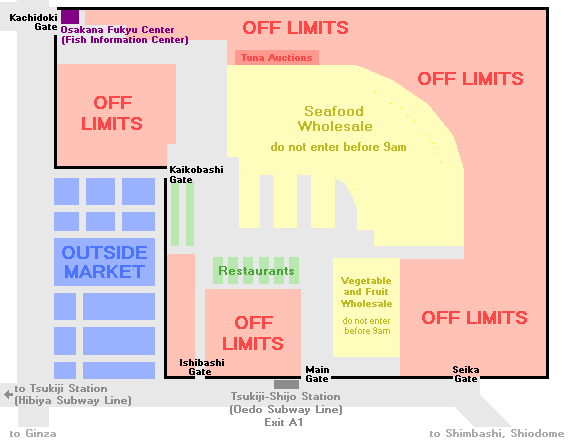 Sellers display what they fished starting from 4 a.m. while shops clos around 11 a.m.
My colleague tells me that he had sushi on a counter in a place "something called DA"
I admit I only had several Japanese language lessons at evening school, but I bet there are many "da-thing".
Rogerio, that's the name of my new colleague, kindly provided me with some of the pictures he took on the spot that I would like to share with you.
From Tokyo Station
Take the Marunouchi Subway Line from Tokyo to Ginza (3 minutes) and transfer to the Hibiya Subway Line to get to Tsukiji Station (3 minutes). The fare is 160 yen.
From Shinjuku Station
Take the Oedo Subway Line directly from Shinjuku Station to Tsukiji Shijo Station. The one way trip takes 20 minutes and costs 260 yen.